News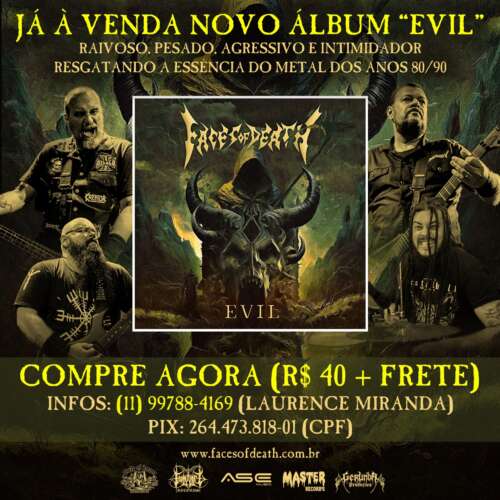 Posted at 11/01/2023
Evil rescues the essence of Thrash Metal from the 80s/90s. Enjoy without moderation. https://facesofdeath.hearnow.com/
---
Posted at 09/20/2023
The São Paulo group Faces of Death, which will release its new album, "Evil", in October, presents another single after the release of the title track, released as a lyric video. It's "Stronger Than You" which, according to Laurence Miranda, vocalist and guitarist, comes as a tribute to Sepultura's iconic sound, inspired by the albums...
---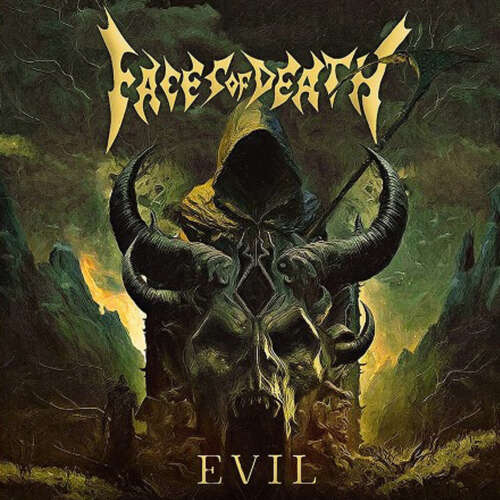 Posted at 09/09/2023
Evil will bring back a true thrash metal influences 80s/90s. Cover art by Marcelo Vasco. The new album will be released by labels Impaled Records, Gate Of Doom and Gerunda Produções. New album was produced by Niko Teixeira e Luiz Amadeus at Audiolab Extreme Studio. Are you ready?
---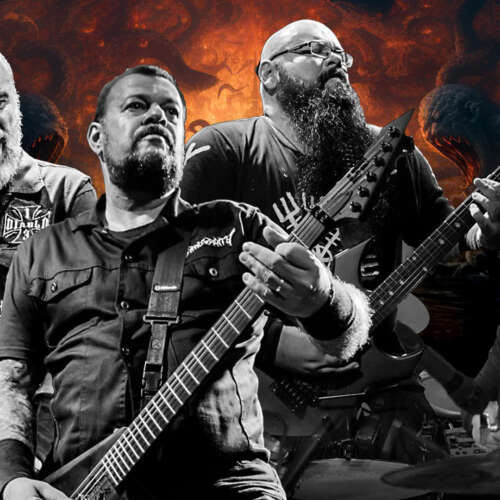 Posted at 08/17/2023
Aiming to rescue the essence of metal from the 80s/90s, the new album by the São Paulo group Faces of Death comes angry, heavy, aggressive and intimidating. The first sample of the material, scheduled to be released in October through the partnership between Impaled Records, Gerunda Produções and Gate Of Doom Records, is the title...
---
Posted at 06/01/2023
Luiz Amadeus showing some of the recording of the solos from the new Faces of Death album. Check it out! In addition to being Faces of Death's official drummer, Niko along with @luiz_amadeus will be responsible for production, mixing and mastering. Soon more videos and news. Niko destroyed everything yesterday on the set. @luiz_amadeus /...
---
Posted at 05/09/2023
On the 22nd of July, at Red Star Studios, in São Paulo/SP, you, a fan of Heavy, Thrash and Crossover, have an appointment at the THRASH Festival disCONCERT, which will bring music lovers and enthusiasts real chaos in the form of music with: Trendkill Inc. (Heavy/Thrash Metal – São Paulo/SP) Faces of Death (Thrash Metal...
---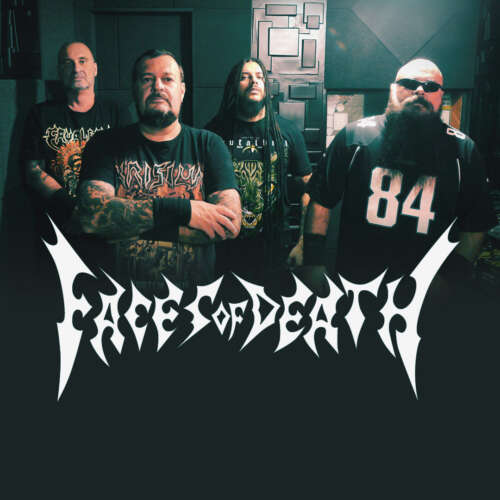 Posted at 04/25/2023
Faces of Death are ready to destroy everything with their next album! With all the songs composed and ready to record, the new work promises to be a tribute to Thrash Metal classics from the 80s and 90s. If you're a fan of a more direct and intense sound, double bass drums, insane pickings, you...
---
Posted at 09/19/2022
Drum Playthrough video with Niko Teixeira from the song When Calls the Death. Check out!
---
Posted at 08/22/2022
"1° Bar do Gu Metal Fest" will be held on September 3, in Guaratinguetá (SP) After marking their return to the stage at the end of July playing at La Iglesia (SP), the São Paulo thrash/death metal band Faces of Death is getting ready to perform at a festival alongside bands from Vale do Paraíba,...
---
Posted at 07/26/2022
Check out Photos and videos from the Fuego en La Iglesia show on 7/23/22 at La Iglesia.
---